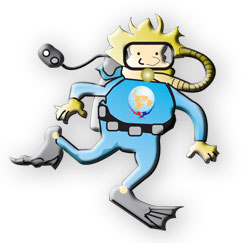 Early morning dive out of Sipadan Dive Centre to Southpoint.
Dropped off the boat onto top of reef wall and then slowly descended down wall to about 33m and finned into the blue. Kept the reef wall just visible on left shoulder. Drifted with current and down to a maximum depth of 36.9 metres. And then… after about 10 mins spotted 7 hammerhead shark in the distance and at about 40m. As we approached them they swam away but 3 more came by – really close. Amazing!
Stayed a bit longer but only a lonely grey reef shark and a few big dogtooth tuna below us.
Finned back to reef wall ascending slowly up to 10m. Loads of reef fishes, fusileers, scorpion fish, green turtles and a huge shoal of jacks which I finished my dive amongst!
Really special dive!