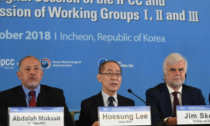 Earth is hotter than it has been in 125,000 years, but deadly heatwaves, storms and floods amplified by global warming could be but a foretaste as planet-heating fossil fuels put a "liveable" future at risk. So concludes the UN Intergovernmental Panel on Climate Change (IPCC), which started a week-long meeting Monday to distill six landmark reports totalling 10,000 pages prepared by more than 1,000 scientists over the last six years.
Here are some of the main findings from those reports:
– 1.5C or 2C? –
The 2015 Paris Agreement called for capping global warming well below two degrees Celsius compared to late-19th century levels.
But a landmark IPCC report in 2018 left no doubt: only the treaty's more ambitious aspirational limit of 1.5C could ensure a climate-safe world.
...
Read More