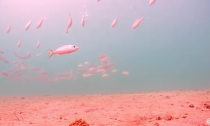 County and municipal marinas are closed, popular sandbars are empty for the first time in recorded history, and there are no cruise ships packed with passengers sailing out of South Florida's ports. On the surface, there doesn't seem to be a whole lot going on when it comes to life on the water, due to the COVID-19 crisis.
That's on the surface.
Below the surface, an unlikely coral reef has recently transformed into a welcome distraction for those stuck at home during the pandemic.
On the east end of Port Miami, a live webcam is trained on the reef that popped up along dredging work that took place in 2010. The webcam broadcasts live 24-hours a day, capturing a dizzying variety of wildlife, with flurries of color that change as the sun rises and falls.
Below the surface, an unlikely ...
Read More