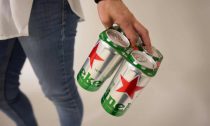 Heineken is ditching single-use plastic rings and shrink wrap from millions of multipack cans and replacing them with eco-friendly cardboard. The Dutch company has invested £22m in new technology and production facilities at its UK sites that will enable it to start rolling out the changes across its popular brands , which include Heineken and Foster's, from April 2020.
The can "toppers" are made from recyclable cardboard and are strong enough to carry the weight of a multipack. Their adoption by Heineken in the UK will lead to 517 tonnes of plastic being removed from the packaging of its brands by the end of 2021.
The changes will be rolled out first across Heineken, Foster's and Kronenbourg 1664, then all its other brands in multipack cans, such as Strongbow, Bulmer's, Red Stripe...
Read More