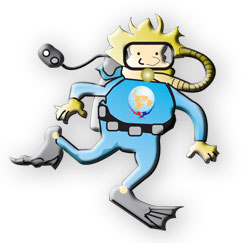 1. Trip – Had to manouver the Wahoo cleverly over coral on the way back coz the tide had started to get low. All buddy pairs were equiped with torches.
2. Site – 1 solitary large lovely coral rock, no other rock in sight for quite a few metres. Just kept circling the rock and discoering the life on it. Lots of microscopic sparkling life when the toch was switched off.
3. Sightings – 2 Shy dusky morrays who refused to come out of their hiding place. Baby octopus, cleaner shrimp, glass fish, angel fish
4. Experience – Very different to be in the sea at night, colours are diminished and the torch is like a security blanket, alot of excitement though, the night was clear and was lonely to floa and look at the stars.