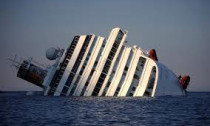 A new report identifies the world's most dangerous waters for shipping and says accidents pose a particular danger for some of the most ecologically important areas.
The research says the worst accident hotspots are in the South China Sea, the Mediterranean and North Sea.
Losses are more likely in the future as the number of ships is expected to double, the authors warn.
The study has been carried out for WWF International.
The number of ships traversing the world's oceans has increased substantially over the past 15 years from around 85,000 vessels to 105,000.
While the overall number of accidents taken place has fallen, the WWF report states that many that do take place happen in areas of significant environmental interest.
Since 1999, there have been 239 shipping accidents in the South China Sea and East Indies, an area sometimes called the Coral Triangle, where three quarters of the world's coral is found.
"This is the top accident area because of its associated with tramp streamers, older vessels and unregulated flags of convenience," said Dr Simon Walmsley from WWF.
"The probability is the next accident will be in one of these places, and we've already seen… a Chinese fishing boat and a US navy vessel running aground on a world heritage site in the Philippines."