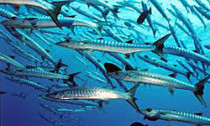 Approximately 500 miles north of the equator, the Republic of Palau lies just outside of the northern Pacific typhoon belt. Given its geographic location, only three typhoons have threatened the Palauan archipelago with serious damage over the last 60 years. In December 2012, however, NOAA weather reports called for "a one in a million typhoon" (later named, Super Typhoon Bopha) to hit Palau – a serious matter in this part of the world as the region's natural and built environment is not able to easily recover from the direct impact of typhoon force winds and seas.
Typhoon Bopha was expected to hit Palau in the early morning of December 3rd, but at the last minute Bopha veered ~50 miles south of Koror. While Palau's built environment was spared marked destruction, coral reef ecosystems were not as lucky. For example, many of the nearshore and outer reef areas along the eastern fringe of Koror State (site of the Rock Island Southern Lagoon UNESCO World Heritage and Cultural Site) were significantly damaged by storm waves – in some cases reaching heights of more than 35 feet or more (Paul Collins, pers. comm.).
Watching the events of Typhoon Bopha unfold (both before and after the storm) from a warm, dry office in Southern California was surreal. For the past several years students from the USC Environmental Studies Program have visited Palau to assist conservation and enforcement officers from the Koror State Government and local scientists from the Coral Reef Research Foundation to monitor and survey many of the eastern reef areas that Bopha was slated to destroy. From an academic perspective, one of the positive outcomes to emerge from Bopha was an experiential learning opportunity for students to witness first-hand the devastating impacts that severe storms have on the natural environment. Not only did the USC program have two years of coral reef survey data before the storm, we were scheduled to return to Palau for another season (post-Bopha).
Currently, we are in the midst of collecting survey data for a third consecutive year. Looking through our pre-Bopha (2011 and 2012) photo archives and witnessing the same reef sites this week, the difference is staggering. Some of the most startling scenes are of massive coral heads (in some cases, 6-8 feet in diameter) that were rolled like bowling balls onto the reef crest and underwater fields of reef rubble from once vibrant branching corals. Although we have not yet analyzed this year's post-Bopha survey data, there appears to be markedly fewer reef fish (especially large predators such as Jacks and Wrasses) and benthic invertebrates (e.g., giant clams, se cucumbers, etc.) than previous years.
This is a tremendous opportunity USC faculty and students who (as part of our curricula) are trained at identifying Indo-Pacific indicator species (e.g., fish, invertebrates), and will greatly benefit from working in real-time with local resource managers in the field. It is our hope these data will serve as an added value to ongoing conservation efforts by Koror State conservation officials and local scientists.
About the Authors: Michael Young is a rising sophomore Environmental Studies major at the University of Southern California.  While participating in a high school competition he co-founded Myactions.org. David Ginsburg is an Assistant Professor (Teaching) of Environmental Studies at the University of Southern California. In addition to his teaching responsibilities, Ginsburg serves as the coordinator of the Environmental Studies master's degree program and oversees directed student research projects both above and below the water.
Editor's note: Scientific Research Diving at USC Dornsife is offered as part of an experiential summer program offered to undergraduate students of the USC Dana and David Dornsife College of Letters, Arts and Sciences through the Environmental Studies Program.   This course takes place on location at the USC Wrigley Marine Science Center on Catalina Island and throughout Micronesia. Students investigate important environmental issues such as ecologically sustainable development, fisheries management, protected-area planning and assessment, and human health issues. During the course of the program, the student team will dive and collect data to support conservation and management strategies to protect the fragile coral reefs of Guam and Palau in Micronesia.
Instructors for the course include Jim Haw, Director of the Environmental Studies Program in USC Dornsife, Assistant Professor of Environmental Studies David Ginsburg, Lecturer Kristen Weiss, SCUBA instructor and volunteer in the USC Scientific Diving Program Tom Carr and USC Dive Safety Officer Gerry Smith of the USC Wrigley Institute for Environmental Studies.