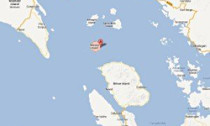 A foreign commercial vessel loaded with more than 1,600 pieces of lumber ran aground off Maripipi Island in Biliran province on Thursday night.
The Japan-bound MV Unicorn Logger, with a crew of 18 headed by Capt. Nguyen Anh Tuan, ran aground on Sambawan Islet at around 7:10 p.m., Maripipi town local government operations head Ritchie Peñaflor said in a phone interview. The 5,691-ton Panama-registered vessel was loaded with 1,607 pieces of lumber weighing 836.06 metric tons, Peñaflor said.
He identified the vessel's operator as Wisdom Marine Lines, based in Panama. The vessel departed from Sandakan, Malaysia, on June 11 around 9 a.m. and was sailing to Japan when it ran aground on Sambawan islet off the island town of Maripipi.
Reef damage
The vessel hit about 270 square meters of coral reef, Peñaflor said.  "This is now our concern. The incident has resulted in the destruction of our coral reefs covering 270 square meters, according to the initial assessment of our local fishery and agriculture office," he said. The fishery office was also looking for possible oil leaks but so far had found none, he said.
Peñaflor said the Maripipi municipal government was studying the possibility of seeking damages for the destruction of coral reefs from the owner of the commercial vessel.
The site of the incident is about 50 to 60 meters away from a beach resort maintained by the municipal government, he said. Maripipi is the farthest island-town of Biliran province. Philippine Coast Guard personnel coming from Tacloban City were on their way to assess the situation, Peñaflor said.
Language barrier
He said the municipal government was having difficulty in getting more information from the ship captain, who spoke little English.
But the municipal government has offered assistance to the crew, if some of them have been hurt, Peñaflor said.
The crew members, who were all Vietnamese, chose to stay aboard the vessel. Quoting the vessel's captain, Peñaflor said the ship was trying to avoid hitting a fishing boat when it hit the shallow portion of the waters off the islet, ending up grounded.
Source