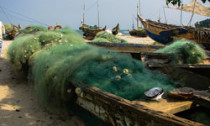 You've likely never heard of Danajon Bank in the Philippines, but this double barrier reef — one of only six in the world — has been called the "center of the center" of marine biodiversity in the Pacific. It's also one of the most threatened reefs on Earth.
Danajon Bank is beset by climate change, overfishing, overdevelopment, pollution, and damaging fishing practices. The region's fishermen rely on inexpensive, microfilament netting to make a living. And when these nets become unusable, the fishermen typically burn or toss them overboard. The remnant netting, of course, continues to catch fish and other wildlife as it drifts beneath the surface, and it can cause considerable damage to delicate coral reefs. The result is an ecosystem choking under the weight of long, tangled strands of plastic that take centuries to degrade.
As is the case in many areas around the world, lecturing a community about sustainability and conservation is difficult when its members are struggling to feed their kids each night. Most subsist by harvesting seaweed, eating whatever they can catch off the reef, and selling prized species to the pet trade. (Where'd you think your clown fish came from?)
But help is on the way, in the form of … trendy carpeting? A pilot program — created by the Zoological Society of London, the Project Seahorse Foundation, and global carpet manufacturer Interface, Inc. — is paying locals for their netting. For 5.5 pounds of the stuff, the coalition offers enough to buy over two pounds of rice — which can mean an extra meal for a family of five. Interface reconstitutes the mesh into a 100-percent-recycled yarn that's used to make special-edition carpeting. Dubbed Net Effect, the fishing-net-turned-rug echoes its origins with a design "reminiscent of swirling currents." The fashionable floor coverings debut this week at NeoCon 2013, North America's largest design exposition and conference.
"The success of Net-Works means we've cleaned up a major source of pollution on the coastline and enabled local communities to make an income directly from their conservation activities," says Dr. Heather Koldeway, Head of Global Conservation Programmes for the ZSL. "This is a rather unusual but exciting collaboration between conservation and industry."
"Certainly, these kinds of projects have been very successful," says Ben Sherman, a public affairs officer for the National Oceanic and Atmospheric Administration. Sherman tells me that here in the United States, NOAA's marine debris program works with a company called Covanta Energy to convert old nets into electricity. Covanta is working in Hawaii, so the local needs are a little different from the Philippines, but the programs are two ways to the same goal, healthier seas. "The challenge of marine debris is immense and NOAA welcomes innovative ways to address the problem," he says. "Both of these projects reflect that."
So far, the results from the Net-Works program are encouraging. The people are better-paid, better-fed, and less reliant on dwindling sea life. The ecosystem benefits from less pollution and human predation. And faraway hipsters now have a story to go with their new, funky home furnishings, "Oh,this carpet? This carpet is made from reclaimed fishing nets. You know, from Danajon Bank in the Philippines — you've probably never heard of it."