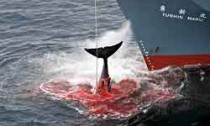 Japan has told the United Nation's highest court that Australia's anti-whaling stance is part of a "civilising mission and moral crusade" that is totally out of place in the modern world. Tokyo did not hold back in its opening submission to the 16 judges of the international court of justice (ICJ) in The Hague on Tuesday. "The days of civilising missions and moral crusades are over," lawyer Payam Akhavan told the court. "In a world with diverse civilisations and traditions, international law cannot become an instrument for imposing the cultural preference of some at the expense of others."
Canberra last week argued that Japan's JARPA research program was cloaking ongoing commercial whaling in the lab coat of science. It therefore breached the 1946 whaling convention, which only allows harpooning "for purposes of scientific research", Australia said. But Japan's deputy foreign affairs minister, Koji Tsuruoka, hit back on Tuesday by insisting Tokyo was conducting a "comprehensive scientific research program" whose aim was to demonstrate that commercial whaling could be sustainable.
"The lifting of the [1982] moratorium requires that convincing scientific data be presented," Tsuruoka said. The deputy foreign minister argued that Japan had long lived in harmony with nature and it would be the last country to misuse marine resources. "Australia can't impose its will on other nations nor change the International Whaling Commission [IWC] into an organisation opposed to whaling," he said.
Japan notes Australia engaged in commercial whaling until 1979 when then prime minister Malcolm Fraser vowed to fight for a worldwide ban. Tokyo argues that killing 850 minke whales in the Southern Ocean each year under JARPA won't endanger stocks. Akhavan on Tuesday said Japan stood unfairly accused of 30 years of defiance and deception, but Australia's position was based on a belief "that whales are unique, sacred, charismatic mammals that should never be killed". Canberra was engaged in "an emotional anti-whaling moral crusade that in the name of zero-tolerance tolerates Sea Shepherd's violent extremism, the politicisation of science, the collapse of the IWC and now, before this court, baseless accusations of bad faith against Japan". He also warned that if too many countries quit the whaling commission as a result, there would be no regulation of whaling.
Japanese government spokesman Noriyuki Shikata later told AAP that Japan was "not talking about leaving the IWC", however. Australia's agent, Bill Campbell, QC, said he had expected Tokyo to put its case in a forthright manner. "Ultimately we get an opportunity to respond and we'll be responding in a forthright manner," he told AAP after Tuesday's hearing.
Campbell didn't want to comment extensively on Tokyo's "emotive arguments", but he said the ICJ case was a legal matter involving scientific principles and it should be decided accordingly. Japan also disputes the court's jurisdiction to even hear the matter. Tokyo wants to invoke a reservation relating to disputes concerning "maritime zones" because its whaling activity takes place near Antarctic waters claimed by Australia.