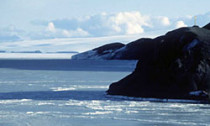 The winding back of plans for a huge Antarctic marine sanctuary is a "significant blow" and "baffling," conservation groups say. A joint New Zealand-US proposal to create the world's biggest marine reserve in the Ross Sea was scaled back by 40 per cent ahead of negotiations in Australia next month.
Officials believe it will be easier to get the support of the 25 nations of the Commission for the Conservation of Antarctic Marine Living Resources (CCAMLR) for a smaller sanctuary.
The Antarctic Ocean Alliance, an umbrella group of 30 conservation organisations, says it is "baffling" that the two governments have weakened their proposal. The environmentalists believe it was a "tactical mistake" to scale back the plan without first securing support from other nations.
This is likely to be a blow to Ross Sea protection, director Steve Campbell said.
"Cutting the amount of protected areas from 2.3 million square kilometres to 1.35 million sqkm is a reduction that we cannot afford."
The Washington-based Pew Charitable Trust argued the revised plan is a significant retreat from a commitment made by US Secretary of State John Kerry.
In March, Kerry called for action to protect the pristine, remote waters, calling them a "natural laboratory".
Andrea Kavanagh, director of Pew's Southern Ocean sanctuaries, called the cuts "drastic." It was "troubling" that the proposal did not designate whether the protection would be permanent.
Some countries want a "sunset clause", under which the reserve would expire after 10 to 30 years.
WWF'S Antarctic and Southern Ocean Initiative manager Bob Zuur said the move was disappointing.
"It is also baffling as to why this has happened at this late stage in the negotiations. There is a compelling scientific case for a large protected area and the New Zealand Government should have continued acting on the basis of the science," he added.
Restrictions already exist in the Ross Sea, but environmentalists want the marine protection area to stop the overfishing of toothfish, also known as Chilean sea bass.
Fishing nations, including Norway, China, Japan, Chile and South Korea, were opposed to the size of the original New Zealand-US proposal.
A CCAMLR meeting will take place in Tasmania next month.
The toothfish catch is worth about $20 million a year to New Zealand.
Antarctic waters make up about 10 per cent of the world's seas and are home to almost 10,000 species, including penguins, whales and seals.