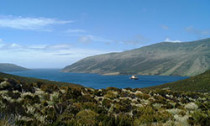 Three new marine reserves, covering 435,000 hectares of ocean, have been set up in the subantarctic today.
Conservation Minister Nick Smith said the reserves would be formally established in sea surrounding the Antipodes, Bounty and Campbell Islands from Perseverance Harbour, Campbell Island.
"The New Zealand Subantarctic Islands are one of the most pristine places on earth and these marine reserves are about keeping them that way," he said.
"The marine reserve status that takes effect today means there can be no fishing, no mining, no petroleum exploration and no marine farming in these waters."
The reserves will ensure the protection of an "incredible diversity of wildlife", he said.
The islands and surrounding waters contain the most important breeding site in the world for albatross, such as the iconic Southern Royal Albatross, as well as three species of penguin that only exist on the islands.
There are significant breeding grounds for the New Zealand fur seal and the New Zealand sea lion, as well as the elephant seal. The islands are also a breeding ground for New Zealand's rarest whale, the southern right.
Large underwater forests of unique antipodean bull kelp – a species larger than any other found in New Zealand – will also be protected, as will other unique marine species such as giant spider crabs and white-footed paua.
These new marine reserves mean New Zealand now has "complete ecosystem protection" covering the land and the sea of its Subantarctic Islands, Dr Smith said, and brings New Zealand's total number of marine reserves to 37.
"The area coming under protection is thirteen times larger than the total area of all the reserves on New Zealand's three main islands. It will expand the proportion of our territorial sea that is protected to 9.5 per cent, close to the target of 10 per cent recommended by the United Nations."