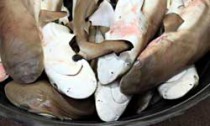 Hunting of sharks has continued in the waters off Surigao City and Surigao del Norte and even in neighboring areas despite calls by conservation groups to stop such practice. Lured by offers of high price for shark fins, some local fishermen in Barangay Punta Bilar in Surigao City go out to the high sea to hunt these marine predators.
"We'll get nothing but only sharks," Jun (not his real name) told MindaNews on Tuesday.
"We start to fish at night until the wee hours of the morning," he said in the vernacular, adding their hunting party would usually consist of at least four people.
On Tuesday, Jun and his group caught two sharks, one about 40 kilos and the other about 25 kilos. A third one got off the hook.
"Sayang we could have a good catch today," Jun said.
"We would reach as far as Southern Leyte, Loreto in Dinagat or Bohol Seas or Agusan Bay," he said.
He added they would hang a shark it until it dies and then remove the fins.
Before, the fishermen would throw the sharks' bodies back into the sea. Not anymore. There are buyers now who will buy the bodies at P70 a kilo and bring them to Cebu to be made into fish balls.
Baby sharks called lahoy are not spared by fishermen who make them into kinilaw or bulad (dried fish).
In Siargao Island, several fishermen catch both big and small sharks also for their highly priced fins. Fins which buyers won't buy for their small size are being dried or eaten as "kinilaw" (raw fish mixed with vinegar and spices).
Local buyers would prefer sun-dried fins.
Apparently unaware that it is illegal, local buyers even advertise over radio stations that they interested to buy shark's fins.
Fisheries Administrative Order 193 issued by the Bureau of Fisheries and Aquatic Resources (BFAR) sets a moratorium on catching and trading of all kinds of sharks and their derivatives and by-products.
The order prohibits catching whales, sharks and manta rays, as well as the selling, transporting and exporting of these marine species, whether dead or alive.
Nerio Casil, regional director of BFAR-Caraga could not be reached for comment.
Vince Cinches, campaigner of Greenpeace Philippines told MindaNews that it is high time to make a local ordinance against the poaching, sale and transport of sharks.
Cinches said the continued capture, sale and transport of sharks and their products, both in domestic and international markets, threaten shark populations and have affected the ecosystem.
He said there has been "no national regulation to protect the species 13 years after the enactment of RA (Republic Act) 9147 and 15 years after RA 8550."
RA 9147 is known as the Wildlife Conservation and Protection Act, while RA 8550 is known as the Philippine Fisheries Code of 1998.
The International Union for Conservation Nature Red List attributes the sharp decline of the shark population primarily to "fisheries over-exploitation, as sharks are caught as targeted and accidental catches in many different fishing gears, including gill nets, purse seines, longlines and trawls, and from small artisanal boats to giant industrial vessels."
According to an Oceana publication, The Beauty of the Beast, shark conservation challenges include a general lack of political will, gaps in scientific knowledge and negative public images. Legislative reform in fisheries management and threatened species protection and increased public awareness and changes in public opinion are needed to protect sharks.
Unknown to many, including public officials and even fisherfolk, sharks are "important in maintaining the health and balance of marine communities. As apex predators, they directly and indirectly shape the flora and fauna components of the ecosystem," The Beauty of the Beast said.
"Removing sharks can destabilize the food web and have widespread negative ecological impacts on community structure and function. Indeed, declining shark populations are already resulting in disrupted marine ecosystems around the globe," it added.