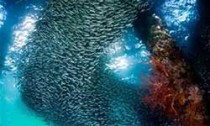 As the world's largest archipelago, Indonesia is blessed with at least 5.1 million hectares of coral reefs. However, almost 65 percent of the reefs are now considered threatened from overfishing. Almost half are considered threatened specifically from destructive fishing practices.
Nadjib Prasyad runs the Fisheries Office in Wakatobi, South-east Sulawesi, and he laments the various activities that destroy the reefs and consequently threaten the livelihood of the villages: fish bombing, sand extraction, collection of the reefs themselves. Prasyad says that, once the reefs die, so do the fish: "We have nothing except our coral reefs.So we have to really protect them since they're the only source of our region's development."
Reviving and conserving coral reefs
The Indonesian government sees the urgency of protecting the reefs. For over 10 years, the World Bank has supported the government's conservation efforts, which include the Coral Reef Rehabilitation and Management Project (COREMAP). This project aims to help empower local communities and governments to jointly manage the use of coral reefs and their surrounding ecosystem. Reviving destroyed coral reefs and improving conservation efforts may in turn increase fish yields and consequently boost the local economy.
In the second phase of the project, 358 coastal communities in seven districts were selected because the communities there suffered from pervasive poverty and extensive degradation of coastal resources.
Through the project, local governments set up protection areas which are then managed in collaboration with the central government. Fishermen are also involved as monitors who survey the protected areas and report any transgressions.
Fisherman Hendriawan checks the coral reefs every day, when he's out fishing. "If we see people enter the protected area, we approach them to  ensure they do not disturb the fish," says Hendriawan, who adds that he asks intruders to fish outside the protected areas.
Hendriawan joined the reefs surveillance team after realizing the benefits of conservation: more fish. "When the coral reefs are healthy, there will be a lot of fish to catch and our income will increase," he says.
Coremap is now part of the Coral Triangle Initiative, which includes Indonesia and five neighboring countries, and whose objective is to protect an area of enormous ecological diversity.