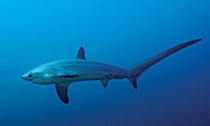 Conservation efforts to save sharks are broadening from the Great White to less iconic species including Thresher sharks found in waters off Egypt and the Philippines, according to The Pew Charitable Trusts. The Conference of the Parties to the Convention on the Conservation of Migratory Species of Wild Animals, or CMS, will meet from tomorrow to Nov. 9 in Quito, Ecuador's capital. Of 32 species under threat that are proposed to be listed by the conference, more than 20 are sharks.
"I think it's the first time at any environmental meeting where sharks have outnumbered the traditional conservation species: iconic land predators and migratory birds and eagles," Luke Warwick, a senior associate at Pew's shark conservation initiative, said in an Oct. 30 phone interview. I think it's because a lot of these governments and the public in general are waking up to the kind of extensive crisis facing sharks.''
About 100 million sharks are killed annually, according to a 2013 study published in Marine Policy.
Demand for shark fins turned the global shark population toward decline, while "there are lots of other places where sharks end up," even found served with potato fries, Warwick said. Many species had been considered low value and "fisheries around the world said catch as many as you want."
Shark Tourism
Thresher sharks have a large tail to stun prey with that can be as long as its body. They drive 80 percent of local dive and tourism industries in part of the Philippines, according to va thresher conservation website.
"In the southern Philippines, there's a whole local community that after the cyclone went through last year has been rebuilt around the tourism for thresher sharks," Warwick said. The Egyptian government has also been "very committed to marine conservation, especially sharks," in part from diving tourism in the Red Sea, he said.
The biggest thresher sharks can exceed six meters (20 feet) in length.
There are 120 countries that are party to the Convention on Migratory Species. Pew is calling on the members to include in the CMS appendix, the silky shark, a proposal by Egypt, all thresher species, the great hammerhead and the reef manta ray.
Warwick said he's encouraged by the attention sharks have received recently as it is much needed.
"There need to be one of the international conservation priorities in the next five to ten years or we're not going to see sharks in a generation's time," he said.