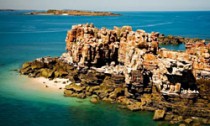 A bigger-is-better announcement in an election year or a valuable way of protecting some of Australia's most important marine environments? The Great Kimberley Marine Park could be all of this — and more.
Depending on who you talk to, it's also a way of locking up fish, of creating Aboriginal jobs, a boost to the fledgling Kimberley ecotourism industry, a marketer's dream and has elements of "greenwashing".
Once established later this year, the Great Kimberley Marine Park will take in coastal waters from Camden Sound to the Northern Territory border, an area of 30,000 square kilometres which is home to pristine coral reefs, marine turtles and the world's biggest population of humpback whales.
It's a huge area of ocean — Environment Minister Albert Jacob says it will be the second-biggest coastal marine park in the nation — but the label marine park can be confusing because it is not the ocean equivalent of a national park.
Draft plans show that only about one-fifth of the park is set aside as sanctuary zone, also known as a no-take zone, which is the closest thing to the marine version of a national park.
Of the remainder, 18 per cent of the park is zoned special purpose, for uses like pearling, and 62 per cent is for general purposes, which allows recreational boating, commercial fishing and companies to apply to do seismic testing.
Multiple zones 'confusing'
Even Curtin University professor of marine science Euan Harvey finds the different zones confusing.
In his native New Zealand, where the first no-take marine area was established almost 40 years ago, all marine parks are sanctuary zones.
Sanctuary zones are established to protect biodiversity — or the variety of creatures, plants, organisms and ecosystems — from human threats such as commercial fishing or mining.
By closing them to these activities, scientists also get a valuable opportunity to study the effects of the threats.
But this does not please the commercial fishing peak body, the WA Fishing Industry Council, whose chief executive John Harrison argues that sanctuary zones lock up fish which were already being managed sustainably.
"What are we protecting from what?" he asked.
'Paper parks' serve no purpose: scientist
University of Western Australia marine scientist Jessica Meeuwig sees little protection in what she likes to call "paper parks".
She is critical that some WA marine parks, including one of the four under the Great Kimberley Marine Park banner, have no sanctuary zones.
"Problematic is that recently established (Roebuck Bay) and proposed (North Lalang-garram) marine parks have no areas allocated to sanctuary zones, rendering them largely 'paper-parks' with business as usual," she wrote in a government submission.
Dr Meeuwig, along with environmental groups like the Pew Charitable Trust and scientists, has long campaigned for marine parks to have at least 30 per cent no-take zones.
Nonetheless, Pew's Kimberley manager Tim Nicol welcomed the new marine park, saying it would be a big achievement given the many traditional owner groups involved in negotiations and responsible for jointly managing the park with the Department of Parks and Wildlife.
But he was critical that gillnet fishing and prawn trawling would be allowed in the park, and that only about one-third would be completely blocked to mining and exploration.
He also questioned why seismic testing was allowed in an area established for conservation, unlike in the Great Barrier Reef Marine Park.
"If you are never going to drill for oil, why would you bother testing?" he asked.
Seismic testing is also a concern for the Kimberley's famous pearling industry, which operates within both state and Commonwealth marine parks at Eighty Mile Beach, in between Port Hedland and Broome.
Pearl Producers Australia (PPA) chief executive Aaron Irving said pearl producers were worried about the impact of the high-intensity shockwaves produced during seismic testing in areas next to the broodbeds of the Pinctada maxima oyster.
"The PPA is equally concerned for the long-term sustainability of the resource and the Australian pearling industry which relies on these last remaining world pearl oyster beds," Mr Irving said.
Scope for ecotourism
But if there is one issue that unites just about everyone, it is the opportunities for developing the potential of the Great Kimberley Marine Park as an ecotourism destination.
The Wilderness Society commissioned tourism economist Jack Carlsen to produce a study on the economic benefits of establishing a marine park in the Kimberley.
Dr Carlsen found the real economic value of conservation and tourism in the Kimberley was $100 million annually, with the cruise industry showing strong growth potential.
While Mr Jacob declined to be interviewed, he said in a written statement the park would be able to be marketed as one of the world's great tourism attractions, with a profile similar to the Great Barrier Reef.
"The creation of the Great Kimberley Marine Park is a significant milestone towards conserving this unique northern environment, while providing employment and management opportunities for traditional owners and supporting growth in environmentally sustainable tourism," he wrote.
Mr Jacob said the park's management plans balanced the different interests of broad sectors of the community.
"The relatively low level of pressure meant that sustainable management could be achieved without a higher level of sanctuary zone," he wrote.
Election boost from marine park
With less than a year to the state election, James Cook University professor and conservation planner Bob Pressey said a big marine park was good election material.
"It comes down to governments knowing that the bulk of electors are undiscerning when it comes to marine parks," he said.
"Saying things are really big is going to convince people they have done something really useful."
Dr Pressey said that in designing a marine park, policy makers need to ask: what are you protecting and from what?
"That's what marine conservation is — if you're not avoiding threats to things you care about, then what are you actually doing?" he said.
"You really are just re-badging bits of ocean."