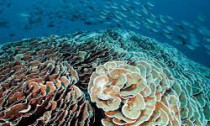 New reports from UN Environment will help environmental planners, conservationists, and policy makers make decisions about managing and protecting coral reefs, which are increasingly under threat in many parts of the world. Important for fishing, tourism, and biodiversity, they are being harmed by pollution as well as climate change, in particular coral bleaching caused by increasing temperature. Corals can survive a bleaching event, but bleaching often causes widespread coral death, according to the agency.
UN Environment and partners, including Small Island Developing States, recognize the need for urgent action to protect coral reefs and enhance their resilience, and the agency reports a new approach laid out in "Coral Bleaching Futures" gives a much more detailed picture of vulnerability and allows the stakeholders to identify reefs that are likely to face frequent bleaching much later than others. The document describes recent work to downscale climate model projections and findings, including a regional summary for the Pacific. The report also provides suggestions for using the data.
A second report is titled "A Guide to Assessing Coral Reef Resilience for Decision Support." It will help environmental planners and managers assess, map, and monitor coral reef resilience and use the results to prioritize management actions that support resilience in the face of climate change.
"These two publications provide key tools in managing reefs during climate change. I strongly encourage people to put them to use, locally, nationally and regionally," said Isabelle Louis, deputy director of UN Environment's Asia and the Pacific Office. "They also provide a valuable resource for outreach in the context of the International Year of the Reef 2018."