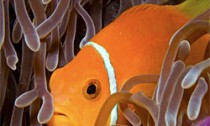 The parks protect a combined area in the Pacific Ocean more than twice the size of Germany. The countries of Chile and Niue just made a huge splash in the world of ocean conservation. Niue, a tiny South Pacific island nation with a population of roughly 1,600, has turned 40 percent of its exclusive economic zone into a marine park, and Chile added two new marine parks where fishing and all other extractive activities are banned. Together, the three new parks protect some 290,000 square miles of ocean—an area more than twice the size of Germany.
Together, the three new parks protect some 290,000 square miles of ocean—an area more than twice the size of Germany.
The two countries will announce their new marine protected areas (MPAs) at the Our Ocean conference, which runs in Malta on Thursday and Friday. The three reserves are scientifically supported by the National Geographic Society's Pristine Seas project.
The Niue reserve encompasses the island itself, various seamounts and offshore reefs, and Beveridge Reef, an uninhabited, semi-submerged atoll. The move protects 49,000 square miles of ocean—more than 30 square miles for each man, woman, and child living on the island today.
The feat is all the more impressive given Niue's size and stubbornly shrinking population. Like the similarly small Cook Islands, which have protected more than 700,000 square miles of ocean, Niue currently lacks representation in the UN. New Zealand represents both countries on the global stage.
"It is no small feat for a small-island developing state to make such a tremendous and tangible contribution to ocean conservation," says Brendon Pasisi, director of the Niue Ocean Wide (NOW) project, a public-private sustainability initiative in Niue.
Niue decided to protect these waters amid concerns that its ecosystem and way of life are extremely vulnerable. Coral reefs throughout the central and western Pacific are hurting, as a changing climate brings warmer and more acidic waters. Overfishing has also pummeled open-ocean fish stocks, including wild tuna. The island's reefs are also still recovering from Heta, a Category-5 cyclone that dealt massive damage to Niue in 2004.
At the suggestion of Niue's government and National Geographic Emerging Explorer Jessica Cramp, a team composed of Pristine Seas, NOW, and the philanthropic group Oceans 5explored the island's waters in September 2016.
(Visit National Geographic Encounter: Ocean Odyssey, a brand-new immersive experience in Times Square, New York City.)
Led by Paul Rose, the 18-day expedition revealed dazzling marine life, including 300 species of fish, the little-known Blainville's beaked whale, and three species of globally endangered sea turtles. These data helped Niue decide which waters to protect.
"We found some of the highest densities of reef sharks anywhere on Earth," says University of Hawaii biologist Alan Friedlander, the chief scientist for Pristine Seas. "Shark populations have declined by more than 90 percent globally, so this new MPA (marine protected area) is an important refugee for these highly threatened species."
"We were amazed by what we found at Beveridge Reef — there were more sharks recorded by my BRUVS [underwater video systems] at Beveridge Reef than had been recorded anywhere in the world to date," adds Cramp, who joined the expedition to catalog Niue's sharks and rays.
On the other side of the Pacific, Chile has unveiled two new reserves that protect 240,000 square miles of ocean from fishing and all other extractive activities—a combined area nearly the size of France.
"Chile is a fishing country, and most fisheries there are fully exploited or overexploited, but this government has realized that there is no future of fisheries without significant protection," says National Geographic Explorer-in-Residence Enric Sala, the executive director of Pristine Seas.
One of the new reserves protects more than 45,000 square miles of ocean around the Diego Ramírez Islands, a small archipelago that rises from the tempestuous waters off South America's Cape Horn.
Its waters host giant kelp forests and a mix of temperate and Antarctic species, including seals, sea lions, and whales. The islands also serve as vital nesting grounds for the rockhopper penguin, the black-browed albatross, and about 80 percent of the world's population of blue petrels.
At 187,000 square miles, the new marine park at Chile's Juan Fernández Islands is the largest of its kind in South America, and nearly all of the area's fish species are unique to the region. What's more, the fishermen who live in the Juan Fernández Islands have long been praised for their well-managed lobster fisheries—a lifestyle that locals hope the nearby marine park will help sustain.
"The Juan Fernández fishing community has become a global model for marine conservation," said Felipe Paredes, a Juan Fernández local leader, in a statement. "This large marine park will provide us shelter and sustenance forever."
Since 2010, Chile has designated more than 400,000 square miles of marine parks where all extractive activities are prohibited, an area bigger than Egypt. And last March, Chile made international headlines by designating some 10 million acres of new national parkland.
Today's announcement comes after Chile announced a marine park around Easter Island, a Chilean territory, at the fourth International Marine Protected Areas Congress in September.
Called Rapa Nui Rahui, the peanut-shaped, 278,000-square-mile swath of ocean is home to least 142 marine species found nowhere else on Earth. It is roughly as large as Chile itself.