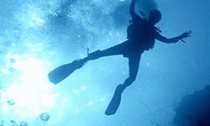 As Graham Edgar entered his third decade of field research, he gradually arrived at a realization: "There was never going to be enough financial support to examine the big questions about human impacts on marine life at a scale that would be relevant for management decision-making."
So he enlisted divers.
Edgar, a professor at the University of Tasmania's Institute for Marine and Antarctic Studies in his 25th or so year of field research, organized 250 divers into the Reef Life Survey, a global network of volunteers trained to the standards necessary for conducting scientific surveys of ocean life.
A new study based largely on data collected by the Reef Life Survey speaks not only to the possible future of the ocean but to the possible future of marine research.
"Increasingly, citizen science is going have a role to play," said Edgar, who noted that of the 250-odd people who have helped collect data in his survey network, around 70 are most active. It's the "only feasible way" that researchers can obtain such large amounts of small-scale, site-specific data, he says. "This research wouldn't have been possible without the assistance of these dedicated volunteers."
That help included collecting observations of the abundance of more than 4,000 species of "visually conspicuous mobile macroscopic organisms" in 44 countries.
Divers were either scientists or recreational divers with at least 50 dives – and usually more than 300 – under their belt, according to a 2014 paper describing the volunteer network and the dataset they gathered. They were trained in survey methods and species identification over the course of a four- to 14-day training course that included comparing data with experienced researchers following practice dives.
During the surveys, data was recorded on an underwater sheet and later transferred to Excel forms. Anomalies, such as recording species that hadn't previously been observed at a particular site, were double-checked.
The new study, published last week in the journal Science Advances, confirmed previous findings that marine biodiversity is highest in the tropics. But it also found that the number of individual animals in a set area of coral reefs is fairly constant as one moves across the ocean from the tropics toward the poles. Closer to the poles, however, the number of individual fish declines, replaced by an increasing number of invertebrates, such as sponges, crabs and jellyfish.
"For a long time scientists have been interested in why there's so much latitudinal variation" in marine biodiversity, said Edgar, lead author of the new study. But the traditional way to examine that variation has been to examine certain areas and aggregate the observations to the global level. This new study is, he believes, the first global survey of diversity and abundance; it is reliant on small-scale data recorded at 2,406 reef sites across the oceans.
"There's a lot of noise in the data at small scales, but, as in this study, when you start looking at bigger scales there's patterns that emerge that weren't there at the smaller scales," Edgar said.
Those patterns could shed light on how factors like temperature and available habitat affect the observed variation in biodiversity. Edgar and his team found, for example, that the number of different fish species, or species richness, correlated with temperature and the species richness of large invertebrates correlated with nutrient availability – and that the fish richness affects invertebrate richness more than the other way around.
As ocean temperatures rise due to climate change, temperature-sensitive fish expand their range poleward. As a result, invertebrate species, currently in the majority in those waters but typically less mobile than fish, will suffer. Predation by fish is likely one reason. The study notes that "a potential effect of warming may be the suppression of visually conspicuous mobile invertebrate diversity due to increasing richness, activity and abundance of predatory and herbivorous fishes."
But predation might not be the full story.
"Ocean animals live in a web of interactions, and ocean warming is tugging hard at that web," said Malin Pinsky, an ecology professor at Rutgers who focuses on drivers of changes in marine ecosystems and who was not involved with the study. "The paper suggests that mobile invertebrates are harder to find where fishes are abundant and diverse, though more work is needed to understand why this occurs."
In addition to predation, he says, other reasons for a lack of abundance could be that invertebrates are just harder to see when there are fish around "either because they spend more time hiding in complex coral reefs or because many of the invertebrates in warm waters are smaller and not recorded as well by these surveys."
Either way, the study echoes previous research "pointing toward a dramatic reshuffling of our oceans as oceans continue to warm" and underlines the role temperature is playing in that reshuffling, according to Pinsky.
The study finds that the role of temperature appears to mainly be through enabling or limiting the existence of coral reefs in warmer latitudes. That further emphasizes the need to protect coral reefs and the threat some political actions can pose to them, says Pinsky. "Warming is a major threat to corals, and efforts to undo the Clean Power Plan or remove the United States from the Paris Agreement are just making it more likely that coral reefs as we know them and the life they support will disappear," he said.
The study acknowledges that protecting coral reefs should be "a primary focus of conservation efforts," but it also concludes that the invertebrates and other species in polar and temperate regions – indirectly affected by coral declines – also need to be a focus of conservation efforts.
Large invertebrates, the study found, "are perhaps more susceptible to warming trends than previously thought."
"With 'business as usual,' we predict mobile invertebrates to suffer substantial population declines and site-scale species losses, at least, with global warming," the paper warned. "Given the geographic extent and magnitude of ongoing change, integrated transnational conservation strategies encompassing the global extent of biodiversity need urgent consideration."