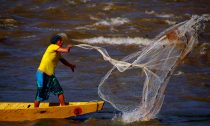 For nearly three decades, Javier Barker has fished in the Caribbean Sea surrounding the Colombian island of San Andres – but until recently he knew little about the importance of coral reefs that fish depend on to survive. "I used to think corals were just hard stones. I didn't know that corals are living creatures," said 40-year-old Barker, who began line fishing as a teenager with his family.
"I now know corals are cradles for fish, and healthier corals equals more fish so corals are important for everyone," he said.
Worldwide, coral reefs from the Caribbean to the Pacific Ocean have come under growing stress as a result of rising ocean temperatures caused by climate change and other human-induced pressures including overfishing, pollution and tourism. Now fishermen are being enlisted in the fight to protect them.
Barker is one of nearly 40 artisanal fishermen in Colombia's archipelago of San Andres and Providencia, in the western Caribbean, who are being paid $125 a month by the government to farm coral in an undersea gardening project.
CORAL SEA FARMS
The project, overseen by Colombia's government agency Coralina – tasked with promoting sustainable development in the archipelago – and by environmental group Conservation International Colombia, is billed as the second largest coral conservation project in the Caribbean, after one in Belize.
As part of the project, that began last year, about 10,000 fragments of coral are being reared in floating underwater nurseries in the emerald green waters around the archipelago, which is home to 80 percent of Colombia's tropical reefs.
Project supporters hope corals grown in the nurseries can replenish and restore existing reef coral colonies in an area covering 60 hectares (150 acres).
The archipelago was declared a protected marine area – the Seaflower Biosphere Reserve – by the United Nations' cultural agency UNESCO in 2000.
BAROMETERS OF CHANGE
Coral reefs in shallow waters are among the ecosystems most threatened by climate change and are a key barometer of global warming impacts, scientists say.
Coral bleaching – a whitening driven by temperature changes or other stresses – can kill coral if it is severe enough. Coral are also at risk as oceans become more acidic as they absorb increasing amounts of carbon dioxide in the atmosphere.
"The archipelago is very vulnerable when it comes to issues relating to climate change," Erick Castro, deputy head of Coralina's sea and coast division, told the Thomson Reuters Foundation.
"And corals are particularly vulnerable due to the warming of the oceans, rising sea levels, and coral bleaching," he said.
In the sea coral farms, it takes about a year for tiny fragments of coral – less than 7 centimeters (2.5 inches) long – to grow to become the size of a basketball, according to Maria Fernanda Maya, a biologist and the project's coordinator.
So far eight coral nurseries have been created, and the first pilot batch of 250 fragment corals transplanted to a reef near San Andres last month, Maya said.
Results have so far been promising, showing a survival rate of about 85 percent among transplanted corals, Maya said.
"There's a direct correlation between the state and health of corals and the conservation of other ecosystems," said Maya, who works for enviromental group Corales de Paz, which is also providing funding and technical support for the project.
"That's why protecting corals is so important."
For Barker and other fishermen, their work involves diving into the sea every two weeks to monitor the growth of corals and clean away algae.
Fishermen also have to sign a contract that commits them to fishing in a sustainable way. That includes a ban on catching certain types of fish during the breeding season.
"I'm proud to be part of something that is useful and helps the island. And having the extra income is a real help," Barker said.
Similar reef restoration projects are underway in Belize in the Caribbean and in the Seychelles in the Indian Ocean.
DROP IN THE OCEAN?
Critics, however, say such coral restoration projects are labour intensive, expensive, require long-term funding – and may not ultimately be successful if global warming continues.
Castro said it costs about $50 per square meter to restore damaged coral.
And "even with our coral restoration efforts, we will never be able to recover what has already been lost," he said.
The other reality, he said, is that "for us, this is on a big scale but with regards to the magnitude of the problem this is on a micro scale."
Another concern is that tourism to the palm-fringed white sand beaches of San Andres has more than doubled to one million visitors since 2010 – something that also is taking a toll on the coral reefs, Castro said.
With more scuba-diving tourists, boats and jet skis visiting the reefs, corals are being damaged and polluted, he said.
Protecting them will require fishermen, diving schools, hotel chains and islanders to all understand that conserving coral reefs is crucial for the island's tourism and its fishing economy, Castro said.
As part of that effort, fishermen next year will give workshops on the importance of coral reefs in their local communities and in schools, while free diving courses will be provided for dozens of school children.
"Islanders don't know what's underwater, what's in the ocean," Castro said.
DISASTER PAYOFF
Globally, about half a billion people rely on corals for food or to make a living – or for coastal defense, according to the U.S. National Oceanic and Atmospheric Administration (NOAA).
Coral reefs can help absorb energy from waves generated by hurricanes, storm surges and tsunamis, protecting the coastal communities and beaches behind them.
That ability is of particular importance as climate change brings wilder weather, scientists say, and is vital in the Caribbean, where about 70 percent of people live on the coast.
"Corals are like natural walls. They are very strong, solid structures that can create resistance against the impact of waves," Maya said.
"But when corals begin to erode and break, waves pass with greater strength," she said.
For Barker, working toward seeing the San Andres reef recover – and protecting his fishing income and home – has been as much of a reward as the money he receives.
"We started with just tiny coral fragments. It's been so amazing to see them grow so quickly," he said. (Reporting by Anastasia Moloney @anastasiabogota, Editing by Laurie Goering. ((Please credit the Thomson Reuters Foundation, the charitable arm of Thomson Reuters, that covers humanitarian news, women's rights, trafficking, property rights, climate change and resilience. Visit news.trust.org)