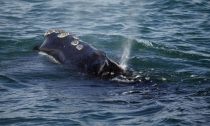 Vessel speed restrictions put in place to protect migrating whales have been extended to late April, according to federal officials.
The voluntary vessel speed restriction zone put in place by the National Oceanic and Atmospheric Administration has also been expanded to cover areas off the coast as far north as Gloucester and around the Cape, extending down just south of Block Island, NOAA officials said on Wednesday.
The speed restriction will continue to limit boats to 10 knots or fewer, and NOAA is encouraging boaters to be extra vigilant in shipping lanes because whales have been spotted in those areas.