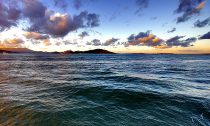 More than 140,000 square miles of seafloor along the West Coast will be protected from bottom trawling under a plan finalized by NOAA today.
Conservation groups have long opposed bottom-trawl fishing gear, in which weighted nets are dragged to catch fish living near the seafloor. They say it damages the habitat, endangering rocky reefs, sponge beds and deep-sea corals, among other things.
The rule will take effect Jan. 1, NOAA said in a notice published in today's Federal Register.
Today's action caps nearly a decade of work for conservationists, NOAA, local fishery managers and fishermen. The Pacific Fishery Management Council first approved the plan on a unanimous vote in April 2018.
Officials with the conservation group Oceana said the rule would more than double the amount of seafloor protections off California, Oregon and Washington. When the regulation takes effect, roughly 90% of the West Coast seafloor will be off limits to bottom trawling.
Ben Enticknap, Oceana's Pacific campaign manager and senior scientist, called NOAA's move a "win-win" for ocean conservation and fishermen, creating "safe havens for sensitive deep-sea ecosystems where fish populations can flourish at healthy levels to the benefit of our ocean environment and fisheries."
Opponents of bottom trawling call it the most damaging fishing method, saying the heavy nets can flatten and crush corals and sponges that provide the habit for fish and other marine life.
"Healthy oceans rely on a healthy seafloor, and these new conservation areas will ensure that commercially important fish and other ocean animals, like deep-sea corals, octopus, crab and sea stars, can thrive into the future," Enticknap said.
As part of the rule, NOAA said it would also protect deep-sea habitats beyond 3,500 meters — nearly 2 miles — below the ocean's surface by prohibiting all commercial bottom-contact fishing gear.
In addition, the agency plans to increase fishing by allowing reopenings of some fishing grounds where bottom trawling has been prohibited to recover rockfish populations.
NOAA called the change "sweeping" and said it was making the move because fish populations had sufficiently rebounded.
The agency said the changes come after "years of talks" that led to a "collaborative solution" among all parties.