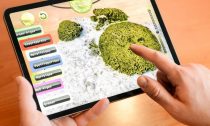 NASA has created a video game for people to go on virtual research expeditions and help scientists map coral reefs around the world from their couch. Over the last several years, researchers at the Ames Research Center in California have developed instruments that can see below the ocean surface in more detail using techniques originally created to view stars.
NASA has taken the equipment on expeditions to Puerto Rico, Guam, American Somoa and other places to collect 3D images of the ocean floor — which is where the public comes in.
To help sort through all the data, NASA has created NeMO-Net, a video game where players travel on their vessel to identify and classify corals using those 3D images.
Players interact with real NASA data to learn about different types of corals and highlight where they appear. The game allows players to track progress, earn badges and access educational videos about life on the ocean floor.
Every time someone plays NeMO-Net, the smarter NASA's supercomputer becomes. The computer "learns" from the coral classifications players make and creates a technique to classify coral on its own.
NASA says once the computer can accurately classify the corals included in the game, it will be able to map out the world's corals at an unprecedented pace, helping scientists understand what is happening and how to preserve them.
NeMO-Net is currently available on Apple's app store. A version for Android devices will be released at a later date.