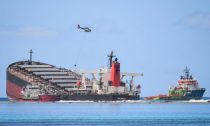 A Japanese vessel that hit a reef in Mauritius last month, threatening ecological havoc on the island's unique biodiversity, has broken apart. Japan's Environment Minister Shinjiro Koizumi said his country will send a team of ministry officials and other specialists to Mauritius to assess the environmental damage.
Mauritian officials reported the condition of the MV Wakashio had seriously degraded early Saturday. By the afternoon, it had split in two.
"At around 4.30pm, a major detachment of the vessel's forward section was observed," said the Mauritius National Crisis Committee in a statement. "On the basis of the experts' advice, the towing plan is being implemented."
The 203,000 tonne Japanese-registered bulk carrier struck a coral reef off Mauritius on 25 July spilling about 1,000 tonnes of fuel oil and endangering corals, fish and other marine life in what some scientists have called the country's worst ecological disaster.
On Friday, some residual oil from the ship leaked into the Indian Ocean, said Jacqueline Sauzier, the president of Mauritius Marine Conservation Society. "Booms have been placed around the ship to contain the spill," she added.
Koizumi said he regarded the oil spill as a crisis that could lead to a loss of biodiversity.
Pravind Kumar Jugnauth, the prime minister of Mauritius, asked for help from France, the former colonial ruler, on 7 August.
French president Emmanuel Macron responded to the request by dispatching military and civilian equipment as well as personnel from France's overseas territory of Réunion.