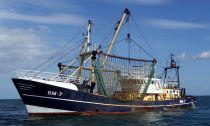 In a possible victory for UK oceans, four key areas of the seabed off England may soon be off-limits to bottom-trawlers. Using post-Brexit powers to protect marine life, the Marine Management Organization will consult on proposed bylaws to prohibit vessels from engaging in bottom trawling in four of England's Marine Protected Areas (MPAs), The Guardian reported. The consultation runs through March 28, 2021, BBC reported.
This highly destructive form of fishing involves dragging weighted nets along the seabed in search of scallops, sand eels, sole, cod, crab and other bottom-dwelling animals, reported BBC. Trawling is particularly damaging to bottom ecosystems because it bulldozes sensitive corals, invertebrates and animals, catching them or running them over in search of target fish species.
According to NOAA, bottom trawling accounts for roughly one-quarter of global marine fisheries landings. The fishing method has the potential to temporarily or permanently alter seafloor habitats, and these consequences can cascade through the entire ecosystem, the report found. NOAA noted that the disturbances can be physical and chemical and reduce the abundance, diversity and productivity of life on the ocean bottom.
"These changes in turn can affect the commercially important fish, and fishing communities, that are supported by the ecosystem," NOAA found.
The four areas under consultation include Dogger Bank Special Area of Conservation, Canyons Marine Conservation Zone, South Dorset Marine Conservation Zone and Inner Dowsing, Race Bank and North Ridge Special Area of Conservation. The protected areas will cover 14,000 sq km, reported Dive Magazine. While currently protected as MPAs, a lack of enforcement and policing has led to overfishing in all four, reported Oceanographic.
Under the proposed bylaws, the UK government will completely ban trawling at two sites and partially stop it at the other two, reported BBC. Dredging, another destructive fishing technique, will also be prohibited at the first two sites.
Dr Jean-Luc Solandt, a specialist in MPAs at the Marine Conservation Society, said, "It is a really big day for Britain's seas, where bottom trawling has degraded the environment for 100 years. It's the start of us having a pride in our seas again and it makes my job worthwhile," The Guardian reported.
The move is the latest UK effort to establish a "blue belt" of MPAs around its seas. So far, the UK's policies protect 38 percent of its waters, Environment Secretary George Eustice told Dive Magazine.
"Now that we have left the [EU's] common fisheries policy, we are able to deliver on our commitment to achieve a healthy, thriving and sustainable marine environment," Eustice added.
The fishing lobby has been critical of the move, calling the proposals a sledgehammer to an industry already suffering from post-Brexit export delays of fish and shellfish, The Guardian reported.
Supporters say the action is long overdue and hope it will help these once-vibrant areas recover. Still, they emphasize that more action is needed, and soon.
A 2021 report by the Marine Conservation Society (MCS) called Marine unProtected Areas found that bottom trawling takes place in 98 percent of the UK's offshore MPAs. MCS likened trawling in a protected area to "bulldozing a national park." As a result, the organization has called for a ban on bottom trawling in all protected areas.
"Action in these four sites is only the tip of the iceberg in terms of the scale needed to solve the crisis facing our oceans," Chris Thorne, an oceans campaigner at Greenpeace UK, told The Guardian. "This process shows that the government is prepared to use its new Brexit powers to properly protect our seas."
However, "If the government chooses to follow this consultation approach for a handful of marine protected areas at a time, it will be many years before the entire network is properly protected. Our oceans can't wait that long," Thorne cautioned.