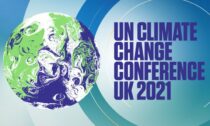 The world is warming because of emissions from fossil fuels used by humans, like coal, oil and gas. Extreme weather events linked to climate change – including heatwaves, floods and forest fires – are intensifying. The past decade was the warmest on record and governments agree urgent collective action is needed. For COP26, 200 countries have been asked for their plans to cut emissions by 2030. 
Under the Paris Agreement of 2015, they were asked to make changes to keep global warming "well below" 2C – and to try to aim for 1.5C – in order to prevent a climate catastrophe.
The goal is to keep cutting emissions until reaching net zero in 2050.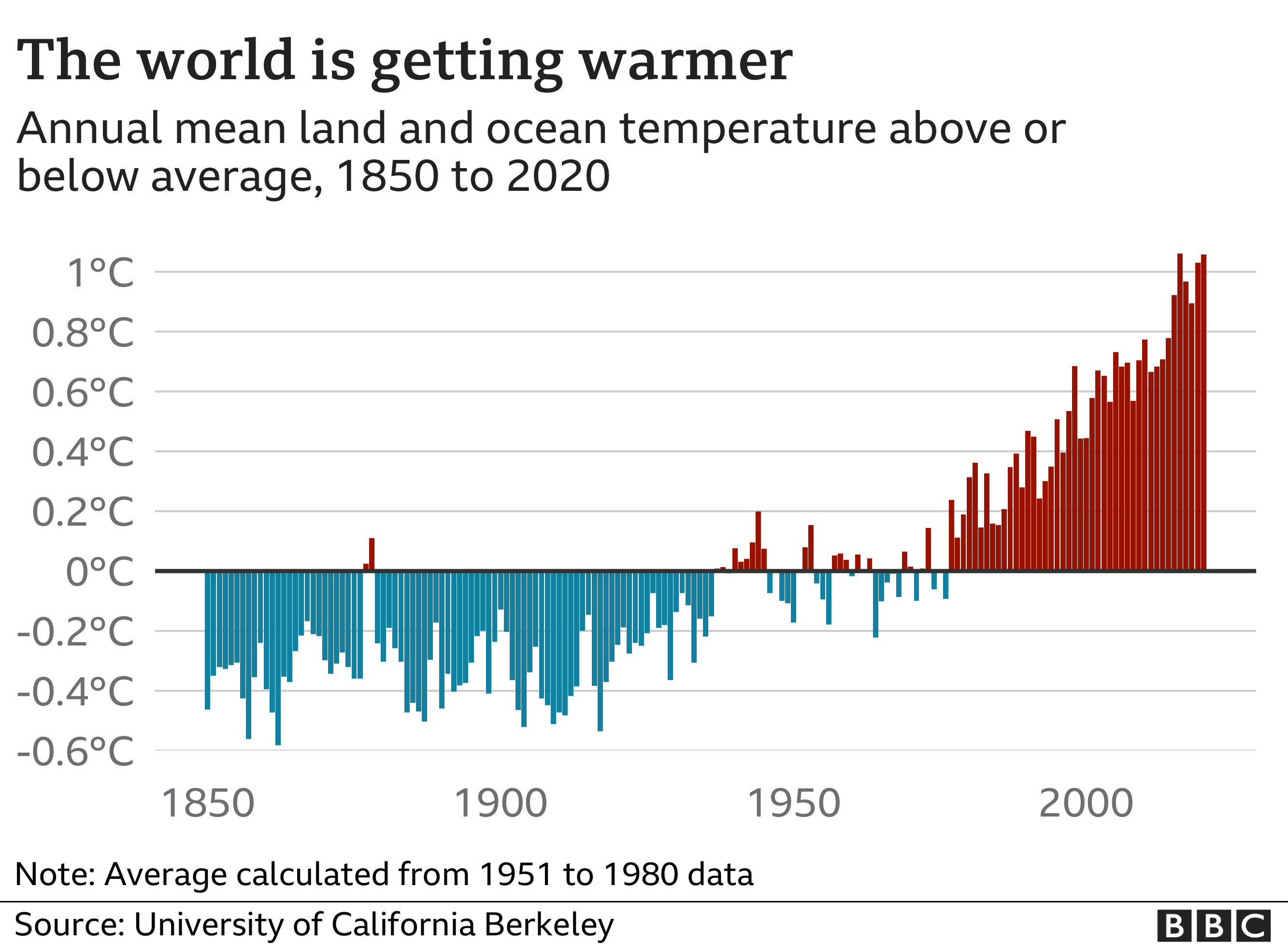 What's been agreed so far at COP26?
A draft COP26 text has now been released, which it's hoped will form the basis of an agreement at the end of the conference, signed by all the countries attending.
DRAFT TEXT
What is the announcement?
The key commitments are to make countries submit more ambitious carbon-cutting plans by the end of 2022 and increase climate finance "beyond $100bn a year" to help poorer nations cope with climate change. The document also calls for the phasing out of coal and fossil fuels – but provides no firm dates or targets.
Why it matters?
This text should form the basis for an agreement that all countries plan to sign on Friday night. It will set the global agenda on climate change over the next decade.
Details are likely to change between now and Friday. However, it gives us a indication of the priorities of countries, and where they have agreed – but also where they are failing to agree.
Does it go far enough?
There are a number of key topics that are missing from this draft text that we know are being discussed and would expect to see. These include goals on the amount of climate finance for 2025-2030, more support and finance for parts of the world adapting to climate change, and how nations report the progress they've already made.
What else has been agreed?
There has been a flurry of new announcements:

TREES
What is the announcement?
Leaders from more than 100 world countries, representing about 85% of the world's forests, promised to stop deforestation by 2030.
Why it matters?
Trees can absorb vast amounts of carbon dioxide (CO2) – one of the key greenhouse gases adding to global warming. So, ending deforestation is seen as a vital way to tackle climate change.
Does it go far enough?
Similar initiatives before haven't stopped deforestation, but this one's better funded. However, it's unclear how the pledge will be policed or monitored. And Indonesia, one of the main signatories, later said the plan was "unfair".

METHANE
What is the announcement?
A scheme to cut 30% of current methane emissions by 2030 has been agreed by more than 100 countries.
Why it matters?
Methane is one of the most potent greenhouse gases, and is currently responsible for a third of human-generated warming. The majority comes from a range of activities, such as cattle production and waste disposal.
Does it go far enough?
The big emitters China, Russia and India haven't joined – but it's hoped they will later.

COAL
What is the announcement?
More than 40 countries – which include major coal-users including Poland, Vietnam and Chile – agreed to shift away from coal.
Why it matters?
Coal is the single biggest contributor to climate change. Although progress has been made in reducing its use, it still produced about 37% of the world's electricity in 2019.
Does it go far enough?
Some of the world's most coal-dependent countries, including Australia, India, China and the US, haven't signed up. And the agreement doesn't cover other fossil fuels such as oil or gas

MONEY
What is the announcement?
Some 450 financial organisations, who between them control $130tn, agreed to back "clean" technology, such as renewable energy, and direct finance away from fossil fuel-burning industries.
Why it matters?
The initiative is an attempt to involve private companies in meeting net zero targets, and to commit them to providing finance for green technology.
Does it go far enough?
There is no set definition yet as to what net zero targets actually are. Also, some environmental organisations have said that without a greater commitment to ending fossil-fuel finance, this initiative may amount to little more than a PR exercise.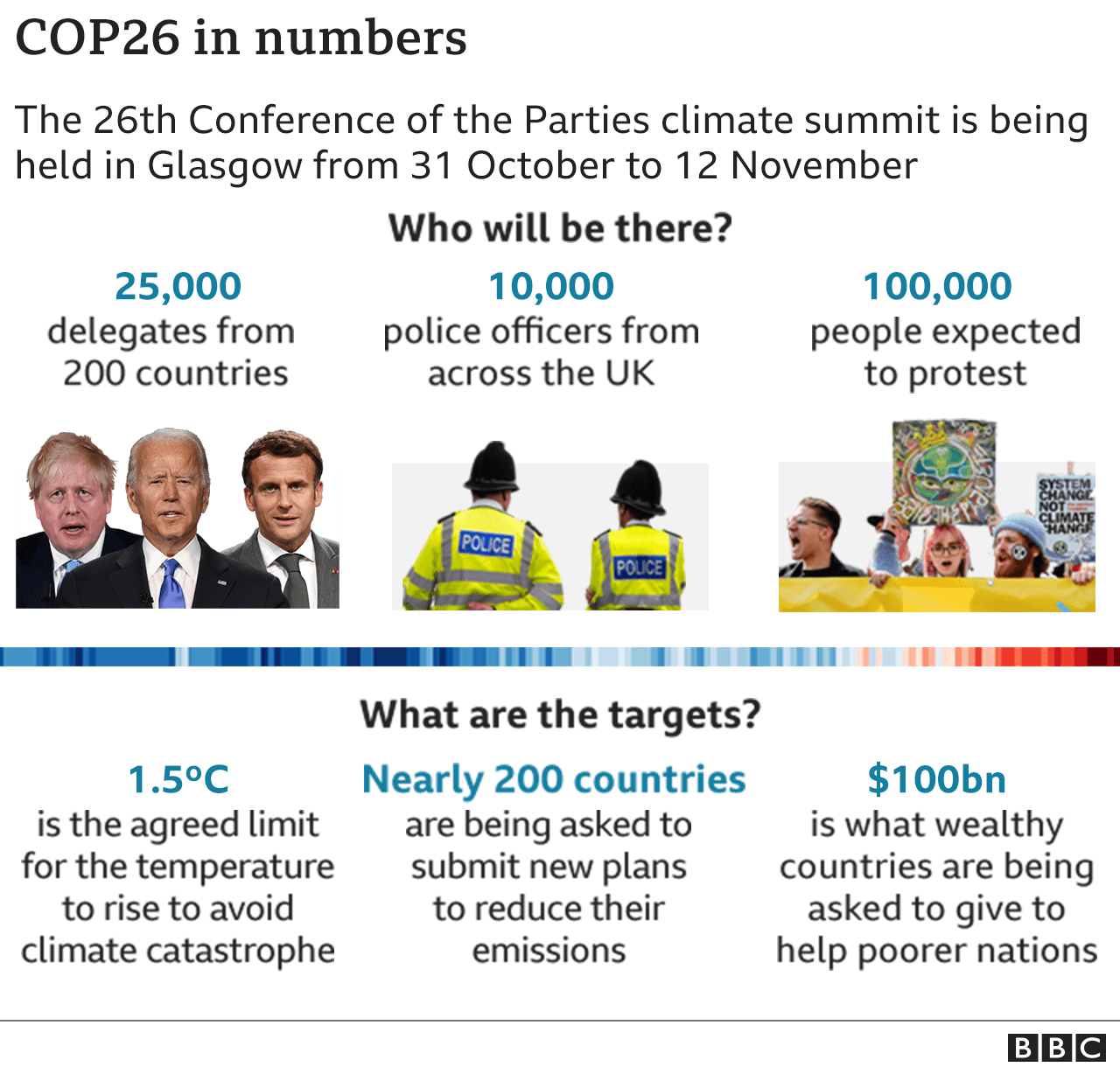 How will countries be made to meet their pledges?
For the most part, any commitments made at COP will have to be self-policed.
Only a few countries are making their pledges legally binding. However, there's a hope that as momentum towards net zero accelerates, it will encourage countries to keep up.
It would be possible in theory to impose sanctions on countries that don't. But it could also be counter-productive, or see nations withdraw from international agreements.
The focus of meetings like COP26 is to try to encourage every country to stay involved.


Climate stripes visualisation courtesy of Prof Ed Hawkins and University of Reading.