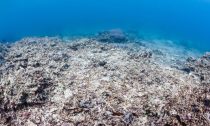 Ocean acidification refers to the process of our planet's oceans becoming more acidic due to the global increase in carbon dioxide emissions. Since the Industrial Revolution, experts estimate that Earth's oceans have absorbed more than a quarter of the atmospheric carbon dioxide (CO2) released from the burning of fossil fuels. Once in the ocean, the dissolved carbon dioxide undergoes a series of chemical reactions that increase the concentration of hydrogen ions while lowering the ocean's pH and carbonate minerals — a process called ocean acidification.
Studies have shown that ocean acidification could have dramatic consequences for marine life and communities whose livelihoods depend on our ocean's resources.
What causes ocean acidification?
When carbon dioxide from the atmosphere is ...
Read More