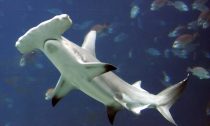 Europe's biggest aquarium faces legal action over the deaths of 30 hammerhead sharks, which a marine conservation group alleges were mistreated. Sea Shepherd France announced at the weekend that it would file a lawsuit on Monday against the Nausicaá aquarium in the French port of Boulogne, near Calais. The last of the 30 sharks, which were introduced into the aquarium in 2011 and 2018, died on Thursday.
Sea Shepherd accuses the aquarium of "serious mistreatment" of the sharks and "breaches of environmental law".
Philippe Vallette, the manager of Nausicaá, rejected the allegations and the claim that they died because they were kept in captivity...
Read More