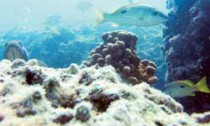 The coral content in Arabian Gulf reefs has declined by up to 50 per cent, posing a threat to fish stocks and marine habitats, an expert has warned. Dr John Burt, associate professor of biology at New York University Abu Dhabi (NYUAD), told Gulf News that extreme weather events also creates further stress and causes mass mortality of coral.
"A major weather event called El Nino is expected to occur again this summer. This usually raises water temperatures by 2.5 degrees Celsius. While El Nino's effects vary, the one in 1998 caused great loss of corals around the world, including in the Arabian Gulf, and many have not yet been able to regenerate," Dr Burt, who is also head of the NYUAD Marine Biology Laboratory, said.
"It is not usually possible to engineer solutions against wea...
Read More