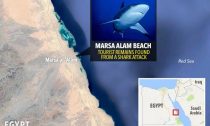 A Czech tourist was killed in a shark attack in the Red Sea off the coast of Egypt, the country's Ministry of Environment said on Sunday. The 41-year-old man was found dead on a beach in the resort city of Marsa Alam on Friday after being attacked by a shark, City Board Chariman Atef Wagdy said.
"A delegation from the environment ministry and another delegation from the natural reserve of the red sea are currently investigating the incident and trying to locate the shark in the Red Sea," he said.
The shark is believed to have attacked the man in parts of the sea beyond the coral reef, where Wagdy said people are vulnerable to attack.
The marina, which extends into the coral reefs, has been closed off to beachgoers, Wagdy said.
He added the beach wasn't evacuated, but beach guards were clo...
Read More