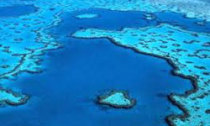 Dozens of new types of coral have been identified in a remote section of the Great Barrier Reef and it has been described as a 'lost world' by researchers. Scientists from the Australian Institute of Marine Science (AIMS) and Torres Strait Regional Authority have been studying the area of Torres Strait for the last three years.
Their findings were presented at National Environmental Research Program conference in Cairns last week, reports the Cairns Post.
The researchers were looking at five different sites from central to eastern Torres Strait and they discovered 91 new species of coral in the region.
Dr Scott Bainbridge, from AIMS, said: 'These reefs are in extremely good condition.
'They are managed by the local communities, and potentially these may also be important to southe...
Read More