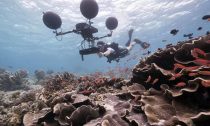 In the first of two articles on the BBC's natural history blockbuster sequel Blue Planet 2, Will Strauss details the filming techniques and camera technology used to capture elements of the world's oceans that have never been seen before.
Back in 2001, the original The Blue Planet series took viewers to parts of the ocean that had never previously been shown on TV. Winning countless awards, it cemented the BBC Natural History Unit's reputation for excellence in underwater filming.
Fast forward 16 years and the sequel achieves that same feat (and will doubtless win more awards), but it goes deeper still, using innovative technology to reveal more marine worlds and aquatic habits from the depths of Antarctica to the vibrancy of a Coral Reef.
"The ocean is the most exciting place for us...
Read More