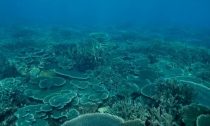 With mystery oil slicks still moving down Brazil's coast, the Brazilian Navy sent more ships on Thursday to try to prevent the pollution of unique coral reefs of the Abrolhos Archipelago marine park, a haven of South Atlantic Ocean biodiversity. Marine biologists warn that the thick sludge of crude oil that has washed up along 2,500 kilometers (1,553 miles) of northeastern beaches for the last two months would have a devastating impact on the five small islands of Abrolhos.
The Navy, which deployed two frigates to join a task force of ten ships, said oil came ashore on Thursday at Belmonte in Bahia state, just 235 kilometers north of the archipelago.
"It would be a bigger environmental disaster that what we have seen so far on the beaches," said Yara Novelli, professor at the University...
Read More