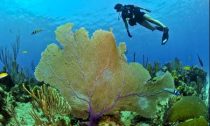 Since winning the UN Environment Programme (UNEP) Young Champions of the Earth prize 12 months ago, Better Blue founder Miao Wang has taken China's diving community by storm. Her Better Blue foundation is committed to enabling more people to learn to interact with the oceans scientifically through shaping a more responsible and stronger diving industry.
The four major fields of Better Blue include marine citizen science, marine public education, industry development support and endangered species and habitat protection.
Better blue builds capacity within diving communities by holding events to raise awareness about marine conservation and through education programmes for divers.
Now, Better Blue has fast-tracked its progress to become one of China's top ranking marine non-governmental o...
Read More