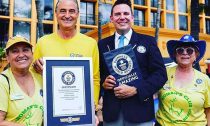 A massive team of divers have broken the Guinness World Record for the largest underwater cleanup. The team of 633 people organised by Dixie Divers in Florida picked up litter from the seabed near the Deerfield Beach International Fishing Pier on Saturday.
The marine conservation non-profit project AWARE and the scuba diving agency PADI also supported the event, aiming to show how conservation is bringing people together more than ever before.
Arlington Pavan, who owns the Dixie Divers facility, told the South Florida Sun Sentinel on the weekend: "It's amazing to see everybody here, happy, just amazing.
"The last record took 24 hours and we did it in two hours, so it's amazing."
The Sun Sentinel reported that the Dixie Divers team broke the last record from 2...
Read More