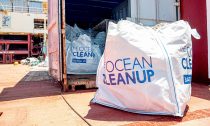 The Ocean Cleanup has revealed plans to turn the plastic it has collected from the Great Pacific Garbage Patch into "beautiful, sustainable products". The Ocean Cleanup's founder and CEO Boyan Slat made the announcement last week that plastic collected by the project will be used to make useful products.
"We're going to turn it into beautiful, sustainable products," Slat said at the event on 12 December in Vancouver. "These are not going to be gimmicks. These are going to be products that you will actually want."
Slat revealed the news standing alongside 60 large white bags filled with plastic the organisation has collected.
The ocean waste is the first material that the Dutch nonprofit has collectedfrom the so-called Great Pacific Garbage Patch – an area located between Hawaii and Califor...
Read More