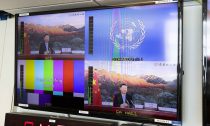 China will aim to hit peak emissions before 2030 and for carbon neutrality by 2060, President Xi Jinping has announced. Mr Xi outlined the steps when speaking via videolink to the UN General Assembly in New York. The announcement is being seen as a significant step in the fight against climate change. 
China is the world's biggest source of carbon dioxide, responsible for around 28% of global emissions.
With global climate negotiations stalled and this year's conference of the parties (COP26) postponed until 2021, there had been little expectation of progress on the issue at the UN General Assembly.
However China's president surprised the UN gathering by making a bold statement about his country's plans for tackling emissions.
He called on all countries to achieve a green re...
Read More