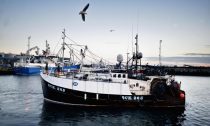 Marine wildlife in a vast area of ocean to the north of Scotland is at risk from trawlers because of a gaping loophole in international fishing regulations.
Over 4,000 square kilometres of seabed on the West Shetland Shelf – where endangered cod, starfish and anemones are meant to be protected – are due to open up to trawling on 14 August.
A European Union (EU) ban on trawling for cod in the area is being lifted, while plans to restrict fishing as part of a "marine protected area" have been delayed and won't come into force for many months.
One trawler skipper fears that the area will be "totally decimated within 48 hours", and there are concerns that Orkney's creel fishing industry will be harmed...
Read More