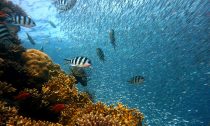 When you want to go diving to see those majestic coral reefs, Italy is probably not the first country you'd consider going to. In fact, it might not be one of the countries that's in your short list. Nobody knew of the coral reef hiding in the great coast of Italy until now.
The reef, identified in a new study published in Scientific Reports, wasn't found sitting just below the surface of some shallow lagoon where it's easily noticeable. Instead, it sits below the ocean waves, hidden from the very little light that beams from above.
The coral reefs that have won the hearts of many all over the world are usually from the Caribbean, Australia and everywhere else where this majestic oasis of sea life gets a very good source of sunlight...
Read More