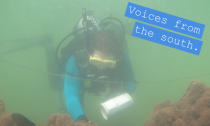 We usually imagine coral reefs as underwater tropical wonderlands, bursting with life and living on a fragile balance.
While climate change and other human impacts are indeed threatening coral reefs on a global scale, not all corals are the same.
In fact, here in Brazil our reefs have very low diversity of coral species, but some of these species are only found here and they are pretty special.
Is Brazilian coral more resistant to climate change?
While many reefs have suffered from especially warm ocean temperatures in recent years, coral species in Brazil have been particularly sturdy. In fact, we haven't seen any mass mortality events related to bleaching so far.
So, could Brazilian corals hold the key to more resilient reefs?
The natural conditions found in coral...
Read More