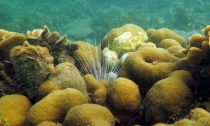 Just off the shore of the city of Cartagena, home of one of Colombia's biggest ports, lies a coral reef that campaigners are furiously battling to protect. The Varadero reef, located in Cartagena Bay, has survived against the odds to thrive in a highly polluted environment. The Caribbean Sea bay, a major waterway for shipping vessels and cruise ships, is contaminated by industrial and sewage waste.
Shipping businesses are planning to expand the canal's Bocachica Channel and build another passageway straight through the reef, meaning a quarter of it will be destroyed and the remainder threatened.
According to marine biologists, the reef should not be alive, and yet it has flourished, providing a home to a large number of coral, fish and urchin species.
'Improbable and imperilled'
A report,...
Read More