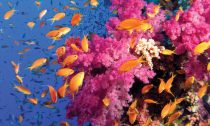 The UK has vowed to help protect the world's coral reefs from climate change and warming oceans, after it yesterday announced it has formally joined the Coral Reef Life Declaration (CRLD). By joining the CRLD, the UK said it is "committing to safeguard coral reefs and bolster scientific research into the threats they face".
Accounting for just 0.25 per cent of the world's marine environment yet home to 25 per cent of all marine life, coral reefs are crucial to ocean eco-systems and the sustainability of many key fisheries.
Yet, as the BBC's hit nature documentary series Blue Planet II laid bare last year, the world's coral reefs are under severe threat from warming oceans and climate change.
Rising sea temperatures have already prompted mass bleaching of reefs, most notably on the Great B...
Read More