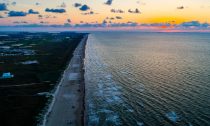 As if the devastation in Texas wasn't enough, Hurricane Harvey's aftermath has also brought a real threat to the Gulf of Mexico. A massive freshwater plume has poured runoff into the Gulf, temporarily altering the surrounding water's salinity – and threatening coral reefs.
Harvey dumped some 20 trillion gallons of rain on the Lone Star State, and that record rainfall had to go somewhere. That somewhere is the Gulf of Mexico. Scientists estimate an incredible 13 trillion gallons entered the Gulf in the days immediately following the storm.
The possible negative effects of that much freshwater entering the saltwater ecosystem became apparent on September 28...
Read More