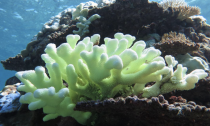 On a 24-hour boat trip off the coast of Western Australia, Dr. Taryn Foster was seeking out a coral reef treasure known as Scott Reef. It was a familiar place for her, as the research associate at the California Academy of Sciences had gone on dives and conducted coral surveys there as part of her postdoctoral work studying coral.
"There's no tourists out there," Foster said. "It's as untouched as you can get these days."
But Foster found the condition of Scott Reef had changed wildly from years past. She was about to dive into the coral reefs during the worlds' 2016 mass bleaching event — one of the longest and most severe coral bleaching events on record.
"In a way, it's actually quite beautiful...
Read More