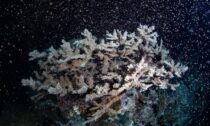 The Great Barrier Reef has "given birth" in its annual coral spawn, creating a cacophony of color on the Australian landmark. Scientists working beneath the waves say they witnessed the event, in which coral simultaneously release sperm and eggs en masse, overnight Tuesday off the coast of Cairns, Queensland, hailing it as a positive sign the reef was able to regenerate despite ecological threats.
"Nothing makes people happier than new life – and coral spawning is the world's biggest proof of that," Australian marine biologist Gareth Phillips, who had a front row seat to this year's coral spawn, said in statement via Queensland Tourism and Events. 
Philips, from research center Reef Teach, and his team of marine biologists, divers, students and photographers dived to the bottom of ...
Read More