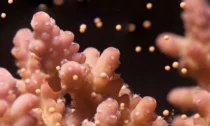 Coral spawning is a natural wonder. It's also a pain in the neck for coral researchers. Once a year, at a time determined by a combination of water temperature, the length of the days and the phase of the moon, coral across a reef release buoyant bundles of eggs and sperm into the water. The effect resembles an upside-down snow globe, a blizzard of little pearls rising toward the surface.
The event is magical. And, for scientists, it triggers a crazed late-night frenzy of trying to collect enough eggs and sperm to last them through a year of experiments, until the next spawning.
Now, researchers in Australia have joined a select few labs around the world that have figured out how to trigger spawning on a human-made schedule...
Read More