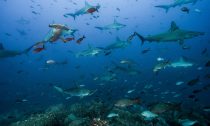 For the first time, scientists have videotaped sharks traveling a 500-mile-long "shark highway" in the Pacific, and they plan to turn it into a protected wildlife corridor in the ocean. Biologists have been attaching electronic tags to sharks near Costa Rica for years. They knew the sharks sometimes traveled south to the Galapagos Islands, but they'd never actually witnessed it. And they needed scientific — and visual — evidence to make their case for protecting the route.
To do that, they took some GoPro-style cameras and attached them to metal frames along with bloody fish bait. They're called BRUVS, for "baited remote underwater video system." The researchers dragged these contraptions behind a research vessel for almost two weeks.
And they waited, and waited, spending hours watchi...
Read More