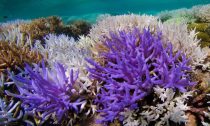 We are going through one of the hardest times in the 21st Century. Filled with bad news, the human species is fighting for survival. As much as we need to battle the pandemic, we must resist the climate crisis and choose sustainability as our survival pathway. Amidst the pandemic, and the loss of lives, time and happiness, let's look at some good news for biodiversity and the ecosystem.
Coral Reefs of the Red Sea surprisingly resist climate change.
Increasing temperature and marine pollution is a threat to the coral reefs — the ecosystem of the Red Sea that protects and provides a habitat to hundreds of coastal organisms. Environmental activists and scientists, for a long time, believed in the possibility of the death of coral species due to temperature rise...
Read More