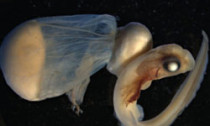 The discovery of the first deep-sea shark spawning ground in Scotland has fuelled calls for better protection of the seas and the nation's multi-million pound wildlife tourism sector.
Marine biologists at Heriot-Watt University revealed that they have found a nursery for the blackmouth catshark on a coral reef in the Outer Hebrides.
Scientists at the university said their work highlighted the "essential" need to safeguard sharks and the economy they support.
The Mingulay Reef, which is already a Special Area of Conservation, has been awaiting designation as a European marine protected area (MPA) – and the greater protection for the habitat and wildlife that would bring – for three years.
Dr Lea-Anne Henry, who led the latest research at Heriot-Watt University, said: "It's very e...
Read More