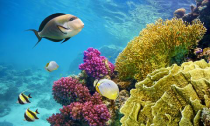 Remote diving is the new remote working. Schools, events and activities in so much of the world have come to a standstill in the wake of COVID-19, with little or no movement recommended. But that does not mean we cannot still enjoy the world and mysteries that abound below and above its surface.
The Ocean Agency, a partner of the United Nations Environment Programme, is inviting parents and their little ones to experience the ocean and its astounding life forms from the comfort of their homes through a little armchair travel.
Get inspired and engaged with virtual dives, expeditions and ocean quizzes about the fascinating underwater world in a click on your phone or laptop.
Discover coral reefs—some of the Earth's most diverse ecosystems, full of color, life and mystery—and why they are va...
Read More