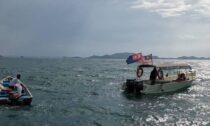 A British man and a French woman have been found safe two-and-a-half days after they went missing while diving off Malaysia. Rescuers are continuing to search for the man's 14-year-old son, Malaysian police said. Adrian Chesters, 46, and his Dutch son, Nathen Chesters, were on a group dive in water off the coast of Mersing, in the southern state of Johor. Another diver, 18-year-old French woman Alexia Molina, has been found.
Police said that both individuals were reported to be in a stable condition after being taken to hospital by the marine authorities.
The pair were spotted at night by local fishermen around 50 miles south of where they went missing on Wednesday.
The Malaysian search operation has now shifted to this area at the southern tip of the Malay peninsular, in the hop...
Read More