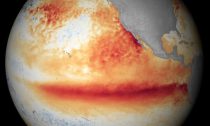 The World Meteorological Organization says there's a 75-80% chance of a weak El Niño forming within three months. The naturally occurring event causes changes in the temperature of the Pacific Ocean and has a major influence on weather patterns around the world. It is linked to floods in South America and droughts in Africa and Asia.
El Niño events often lead to record temperatures as heat rises from the Pacific.
According to the WMO update, sea surface temperatures in the east-central tropical Pacific have been at weak El Niño levels since October. However the atmosphere has not yet responded to the extra warmth that's produced by the upwelling seas.
Scientists have been predicting the likelihood of a new event since May this year, with confidence increasing.
The Australian Bureau of...
Read More