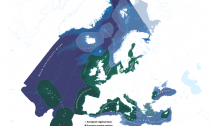 Only a fraction of the marine areas meant to be protected by the European Union are being properly conserved at present, according to a new report. The research – by the World Wide Fund for Nature and Sky Ocean Rescue – says less than 2% of the EU's waters are being properly managed, compared to the target of over 12%.
Janica Borg from the World Wide Fund for Nature told Euronews' Good Morning Europe that the aim of the protected areas is very important:
"The aim of protected areas is to conserve biodiversity so that we can ensure that the oceans are conserved for future generations.
"Not only that, it's also important for a stable blue economy; this means greater use of marine sectors and is something the EU is currently developing.
"Currently, there's good intentions for protection...
Read More