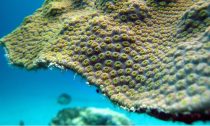 Corals may have teamed up with the microscopic algae which live inside them as much as 160 million years ago, according to new research. The two organisms have a symbiotic relationship, meaning they need each other to survive. But this partnership was previously thought to have developed about 60 million years ago.
The new findings suggest that reef algae may have weathered significant environmental changes over time. This includes the mass extinction that wiped out most of the dinosaurs.
Algae's resilience to temperature changes has been of concern to scientists recently, as warming events on the Great Barrier Reef have seen the coral "bleached" of its algae.
The study, conducted by an international team of scientists, aimed to explore the diversity of algae species co-habiting with co...
Read More