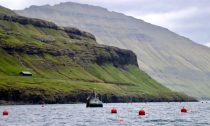 Sunshine has given way to wind and rain, as the motorboat chugs through a fjord in the Faroe Islands.
"Its a bit windy here," says Olavur Gregarsen. "We'll see how far we can get to the harvesting boat."
We soon reach a sheltered spot where steep mountains are looking down on hundreds of buoys bobbing in the sea.
"They are holding up a horizontal line," explains Mr Gregarsen, the managing director of Ocean Rainforest, a seaweed producer. "At every metre another line hangs down, and that's where the seaweed grows."
Breaking waves
Anchored to the sea floor, the cultivation rig consists of 50,000m (164,000ft) of underwater lattice-like ropes, designed to withstand rough sea conditions.
"The main structure is 10m down...
Read More