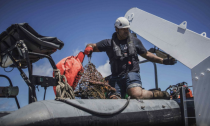 Discarded nets, lines and other fishing gear make up a significant portion of plastics polluting the world's oceans, according to a new report from Greenpeace. The report on so-called "ghost gear" says such debris makes up about 10% of all plastic pollution in oceans, and in some areas accounts for the majority of large plastic waste at sea.
The fishing industry has turned to using more gear made of plastic in recent decades because it is lighter and cheaper, according to the report.
"The impact of abandoned or lost fishing gear has increased dramatically as the industry has switched from natural fibers, ceramic pots and wood buoys to plastic," John Hocevar, Oceans Campaign Director for Greenpeace USA, said in an article on the organization's website...
Read More