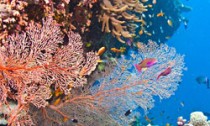 Australian authorities have raised the level of threat due to coral bleaching in theGreat Barrier Reef after an increased loss of corals was detected north of the reef, its most unpolluted zone, the media reported on Tuesday.
The Great Barrier Reef, declared a Heritage Site by Unesco, extends up to 2,300 km in northeast Australia and is the world's largest coral system.
According to GBRMPA, the regions most affected by the bleaching and that has aggravated in the last two weeks, is located close to the Lizard Island.
Read More