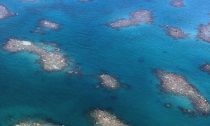 A cyclone in the Coral Sea has helped to ease widespread coral bleaching on the Great Barrier Reef, an expert said, after the marine park weathered its hottest month of sea temperatures on record.
The BOM forecast a tropical cyclone would form off the north Queensland coast over the weekend, and that severe weather over the central and north Queensland coasts would ease.
"The (sea) temperatures have dropped quite suddenly because of this weather system," said Professor Terry Hughes from the ARC Centre for Excellence in Coral Reef Studies.
The cooler change comes at a critical time for the health of the reef.
Figures produced by the BOM showed sea surface temperatures in the marine park in February were hotter than in any month since 1900 — and hotter even than during the record bleaching e...
Read More